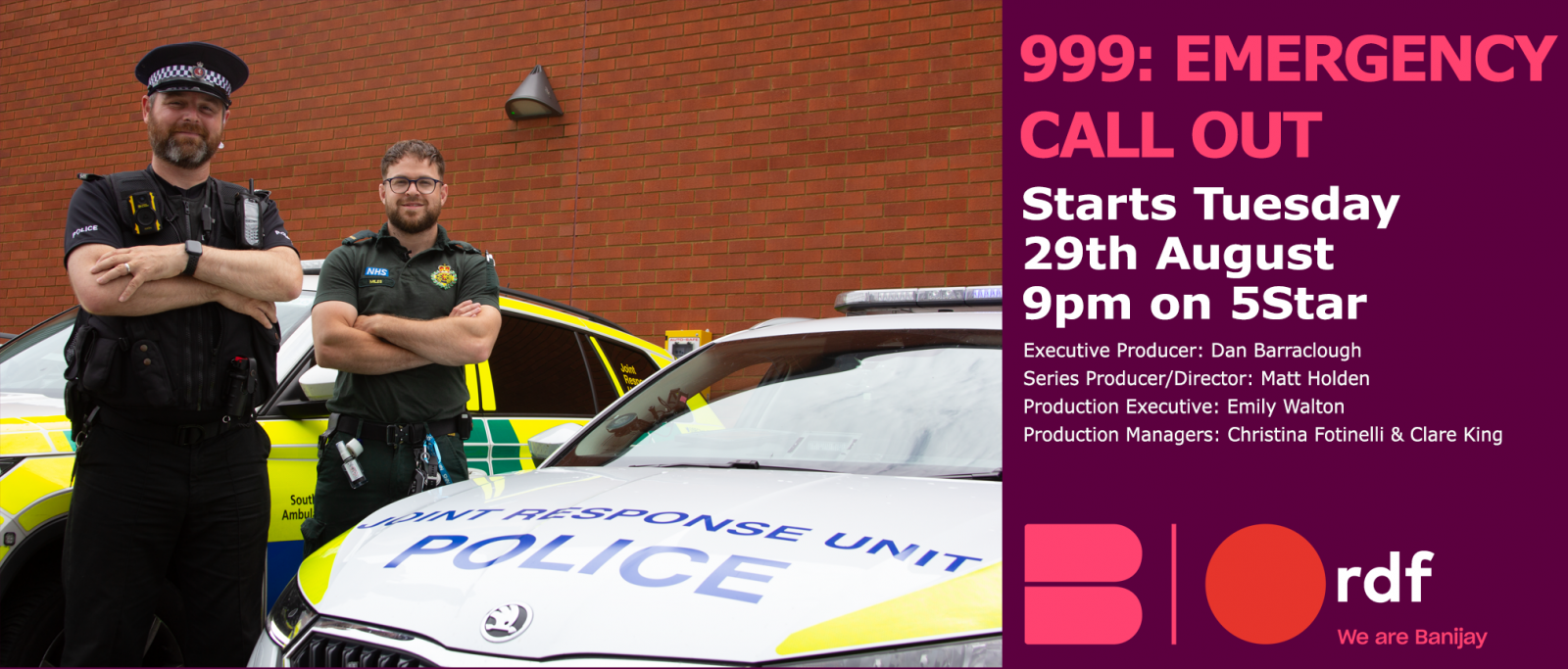 South East Coast Ambulance Service NHS Foundation Trust, (SECAmb), and Kent Police are pleased the work of its staff and officers will once again be showcased with a second series of 999: Emergency Call Out due to air on 5Star from next week.
The first eight of 15 episodes, produced by RDF Television, which follow the work of SECAmb's Joint Response Unit, (JRU), with Kent Police, will be shown on the channel at 9pm on Tuesdays with the first episode playing out on 29 August.
The Joint Response Unit sees paramedics and police responding to emergencies together on a vehicle and being targeted towards particular incidents which are likely to benefit from the skills of both services.
The first series of 999: Emergency Call Out has now appeared on both 5Star and Channel 5 with all episodes available to watch via My 5 here: My5 – 999: Emergency Call Out – Season 1 – Episode 1 / Episode 1 (channel5.com)
SECAmb and Kent Police would like to thank all colleagues who were happy to feature in the programme which, while focusing on the specific work of the JRU, clearly demonstrates the skill, compassion and care undertaken by all colleagues every day as well as the strong working relationship between police and ambulance colleagues.
SECAmb JRU Lead and paramedic Alex Wilson, who himself features across the series said: "I am pleased that the work of the JRU and, in turn, all my colleagues and our partners in the police will be appearing on the TV again. We hope the programme continues to shed light on the issues we deal with and how the public can help us. I'd like to thank all my JRU colleagues and everyone involved in bringing the second series, which we hope will be as popular as the first, to life."
Chief Inspector Jason Wenlock of Kent Police's Citizens in Policing team said: "The Joint Response Unit consists of volunteer officers from the Special Constabulary who are trained to the same high standards and have the same powers as our regular officers. I am so proud of everything they have achieved to date, working closely with our partners at SECAmb to provide a more effective and efficient service for members of the public who I am pleased will once again have the opportunity to watch them in action and learn more about the vital assistance they provide."