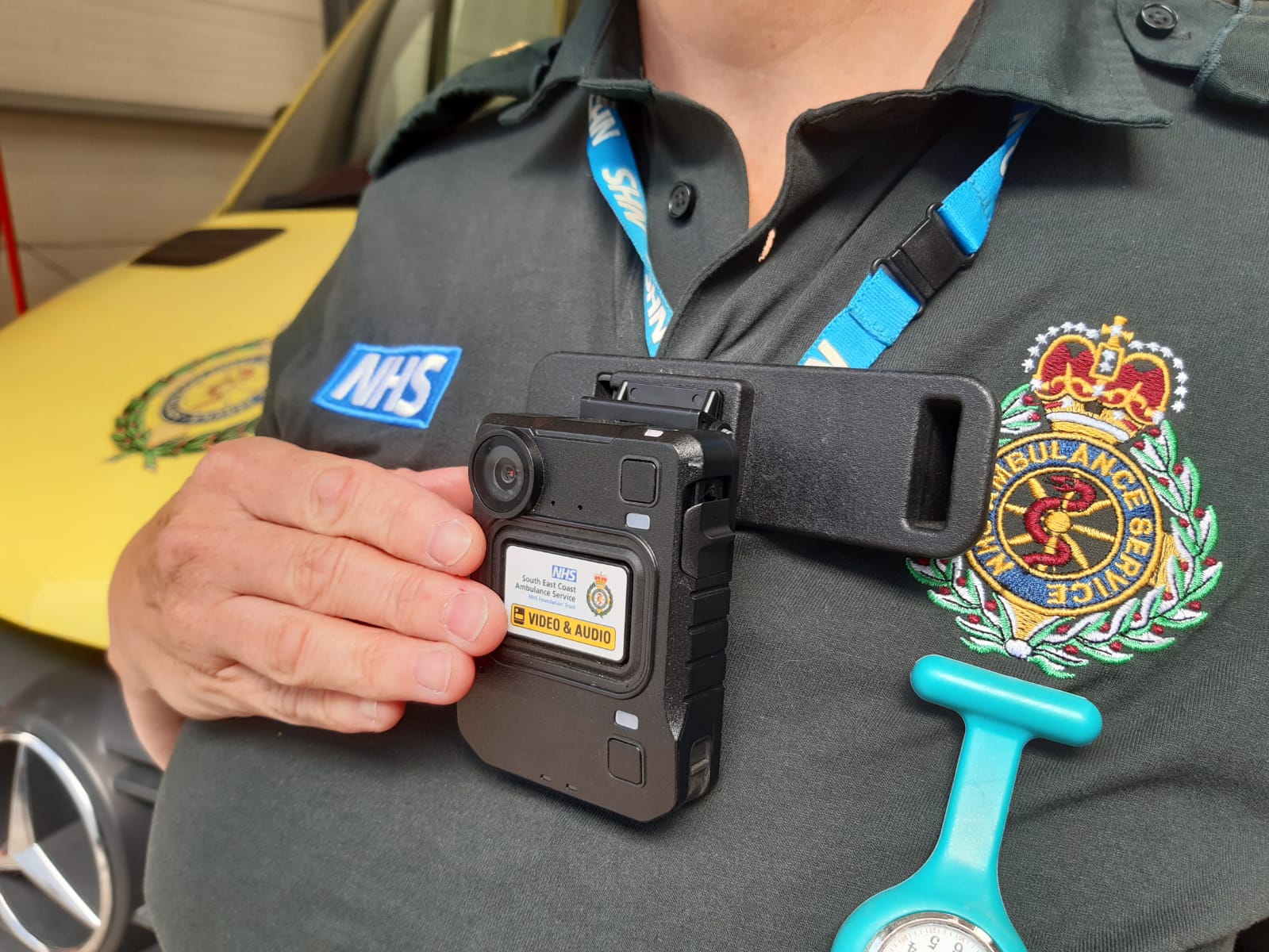 South East Coast Ambulance Service NHS Foundation Trust (SECAmb) is extending the availability of body worn cameras for its frontline crews to more sites across its region.
The cameras, which aim to reduce violence and aggression towards ambulance crews, and which are for voluntary use by staff, will be available across all of the Trust's reporting sites and a total of 25 Trust locations. The devices were initially available for staff to use in six Trust locations.
As well as aiming to reduce occurrences of violence and aggression towards ambulance crews, the cameras also capture evidence to hold individuals responsible for their actions alongside vehicle and building CCTV.
Last year, (April 2022 – March 2023), SECAmb staff reported 1,315 incidents of violence and aggression from members of the public. These included verbal abuse and threats either over the phone to Emergency Operations Centre staff or at the scene of an incident. The reported incidents also included 225 actual physical assaults.
Body worn cameras are just one way SECAmb is looking to reduce violence and aggression towards its staff. Other work includes support and advice provided to staff when they are subjected to violence or aggression, review of training provided to and the welfare support that is available staff and regular partnership meetings with police services colleagues. A national campaign, 'Work Without Fear', was launched last year with the aim of tackling violence and aggression towards ambulance staff.
SECAmb encourages staff to report all incidents of violence or aggression so that those responsible can be held accountable for their behaviour. SECAmb will work with police wherever possible to secure convictions against those who threaten or are violent towards staff.
A man from Dover was recently jailed for making multiple abusive and threatening calls to SECAmb and Kent Police.
Douglas White was also sentenced for two counts of assault against emergency workers relating to a separate incident in January 2022. A SECAmb crew attended White's address after he had reported a medical issue. He became hostile and made threats to throw boiling water and sugar to blind them, forcing them to leave for their own safety.
SECAmb Security Manager Dave Monk said: "My colleagues, both in our control rooms and out on the road, work tirelessly every day to provide compassionate care to our patients.

"We know that the huge majority of people would find the behaviour of people who abuse or who are violent towards our staff, abhorrent. However, there remains a small minority of people who continue to act in this way.

"Our staff deserve to carry out their roles without the fear of facing abuse or violence. I am pleased that we have been able to extend the use of body worn cameras so that more staff have the choice to use them while on shift. We will continue to do everything we can to support all our staff and ensure that any individual who chooses to act in a violent or aggressive manner is held responsible for their actions."