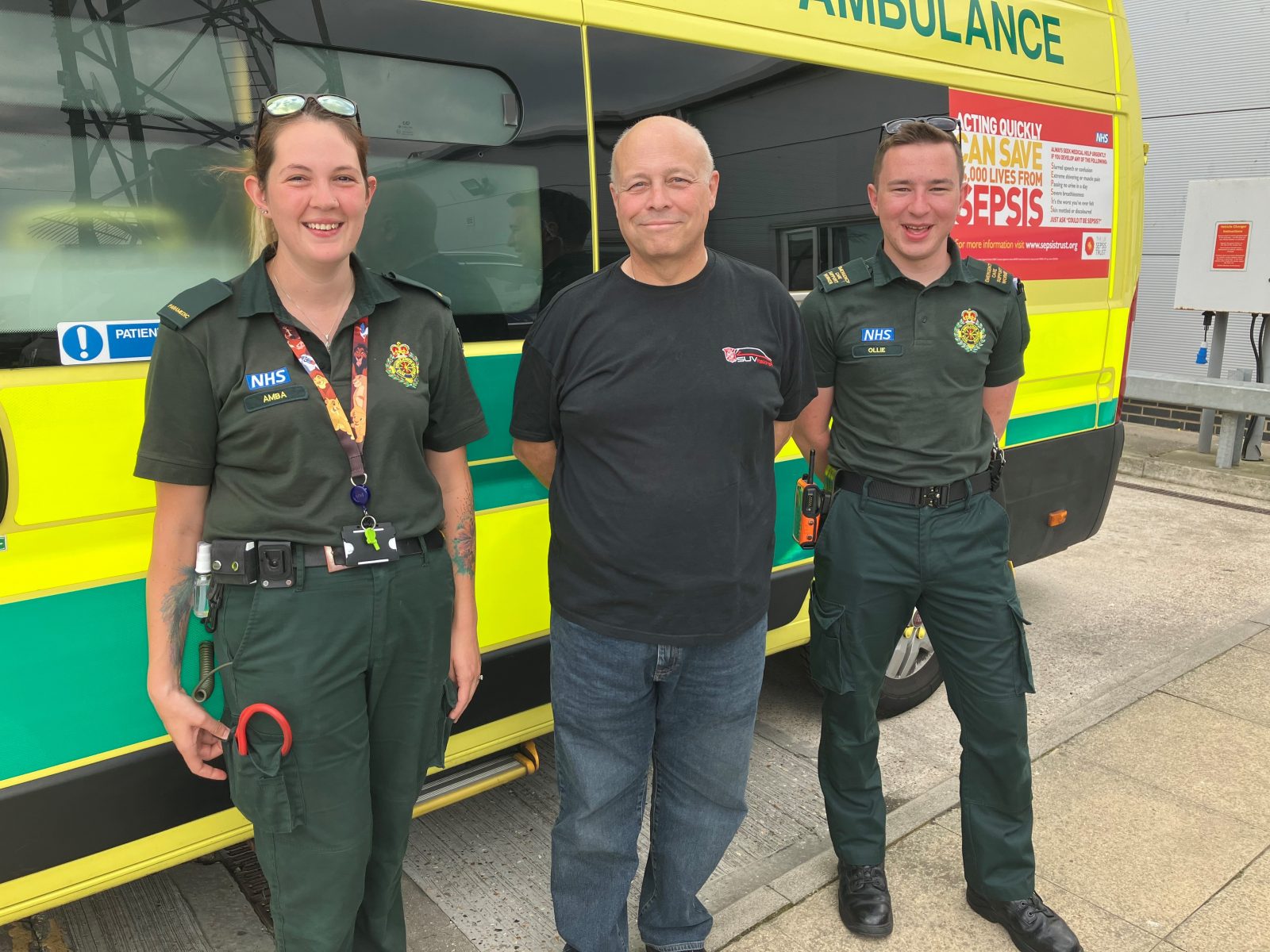 A grateful Faversham man has been reunited with the ambulance crew who came to his aid when he suffered a heart attack.
Telecoms manager, Dave Tynan, 54, who experienced chest pain at his home on the evening of 29 April this year, urged others not to ignore the signs of a heart attack, after he was reunited recently with Paramedic, Amba Cooper and Emergency Care Support Worker, Ollie Myhill at South East Coast Ambulance Service's Make Ready Centre in Ramsgate.
Dave initially thought he had seriously damaged a muscle when pushing a trailer. However, he describes the pain as worsening and spreading sideways, and within 10 minutes he had realised it was more serious, calling 999 and Amba and Ollie arriving quickly at the scene.
"I still didn't think I was having a heart attack," said Dave. "However, they swiftly established that I was and that I needed specialist hospital treatment.
"They kept me so calm and kept reassuring me I would be ok. I was looked after so well on the journey to hospital. It was great to meet up with Amba and Ollie to thank them properly for everything they did."
Dave was taken directly to the cath lab at William Harvey Hospital where, in around an hour, specialists removed a blood clot and fitted a stent.
"I'm in no doubt that due to Amba and Ollie's fast diagnosis and treatment and the fantastic work of the cardio unit I suffered no long-term damage to my heart and I feel in great shape. I'm so grateful. They were brilliant."
Dave has urged others to be aware of the signs of a heart-attack. As a type two diabetic he has been warned that pain can present differently.
"I knew I needed help and that something serious had happened but I had no warning signs in the days leading up to my heart attack so it was quite a surprise and worrying. Everyone should be familiar with the signs of a heart attack, which can be quite varied. If something doesn't feel right people shouldn't hesitate to seek help."
Amba added: "It wasn't the most straightforward of incidents with Dave's heart throwing out some very abnormal rhythms, so it was great to hear that he had recovered well.
"It was a pleasure meeting with him in far better circumstances and, on behalf of myself and Ollie, I'd like to wish him and his family all the very best for the future."
Symptoms of a heart attack can include:
chest pain – a feeling of pressure, heaviness, tightness or squeezing across your chest
pain in other parts of the body – it can feel as if the pain is spreading from your chest to your arms (usually the left arm, but it can affect both arms), jaw, neck, back and tummy
feeling lightheaded or dizzy
sweating
shortness of breath
feeling sick (nausea) or being sick (vomiting)
an overwhelming feeling of anxiety (similar to a panic attack)
coughing or wheezing
The chest pain is often severe, but some people may only experience minor pain, similar to indigestion.
While the most common symptom in both men and women is chest pain, women are more likely to have other symptoms such as shortness of breath, feeling or being sick and back or jaw pain.
For more information visit Symptoms of a heart attack – NHS (www.nhs.uk)