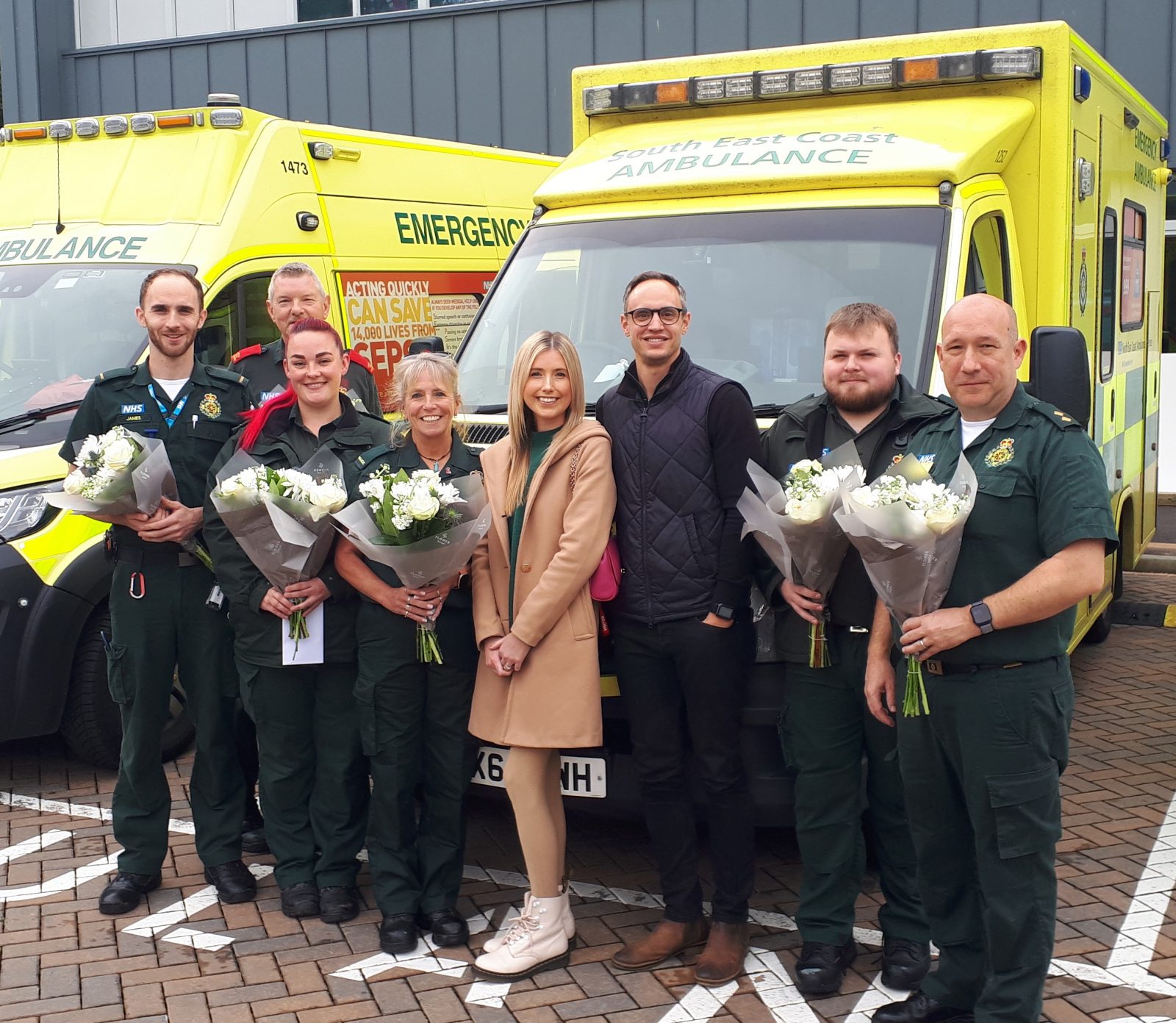 A 34-year-old woman from Sayers Common, West Sussex, has been reunited with the ambulance team who helped save her life in December 2020.
Sarah Edmonds, who was just 31 years old when she collapsed in her then 4-year-old daughter Arabella's bedroom, received CPR from husband, James, under the instruction of 999 Emergency Medical Advisor, Owen Brown.
Now Sarah and James, who met with the South East Coast Ambulance Service team at Brighton Make Ready Centre this week, are urging everyone to learn CPR and how to save a life. The team were delighted to receive individual thank-you letters from Arabella.
Following Sarah's collapse, Critical Care Paramedic, Justin Carding and Paramedic, Sheena Moloney were first to arrive at the scene, closely followed by Operational Team Leader, James Rear, and ambulance crew, Paramedic John Waghorn and Trainee Associate Ambulance Practitioner, Hayley Nichols.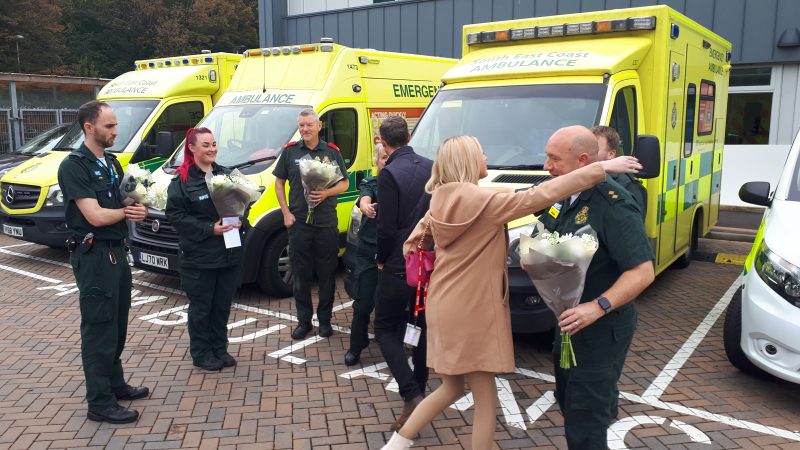 Justin and Sheena began advanced life support, continuing the excellent CPR James had provided to Sarah for more than 10 minutes, with Justin establishing that Sarah's heart was in Ventricular fibrillation (VF).
The team worked together at the scene for an hour to resuscitate and then stabilise Sarah, before she was well enough to make the journey to Royal Sussex County Hospital.
Sarah spent just under three weeks in hospital and was somewhat reluctantly fitted with an internal defibrillator or implantable cardioverter-defibrillator, (ICD) before being discharged in time for Christmas.
"I really wasn't keen to have it," said Sarah. "But James convinced me it was the right thing to do."
The decision proved vital as the defibrillator delivered a number of shocks, when required, to Sarah's heart, the first in June 2021, which in turn helped her cardiac team diagnose she suffered from Long QT syndrome – a conduction disorder associated with the electrical system that controls a person's heartbeat.
Thanks to James's immediate CPR, the team's treatment at the scene and expert care in hospital, Sarah has returned to her work in recruitment sales and is enjoying life.
Sarah added: "I'm so lucky to be here and I'm just so grateful for everything everyone did for me. I can still get tired and have days where I'm wiped out, but I know that I just need to take a few days rest. It's been amazing to see everyone and be able to thank them face-to-face. We celebrate my new birthday with something different every year now.

"I would urge everyone to take the time to learn CPR. James's actions and the work of the team is proof of how you never know when you could need to perform it and how vital it is."

James said: "Owen's words to me prior to the crews arriving, kept Sarah alive. Thank you doesn't really cut it, but we will be forever thankful for the care the whole team provided to Sarah. Meeting everyone has really helped close a chapter in a really positive way."
Paramedic Sheena added: "Justin quickly established that Sarah's heart was in a very fine VF and she needed to receive a shock with a defibrillator. It was a team effort from the very start with James following Owen's instructions so brilliantly.

"It's been lovely to meet with Sarah and James in such positive circumstances and see Sarah's smiling face. On behalf of the whole team, I wish them and their whole family all the very best for the future."