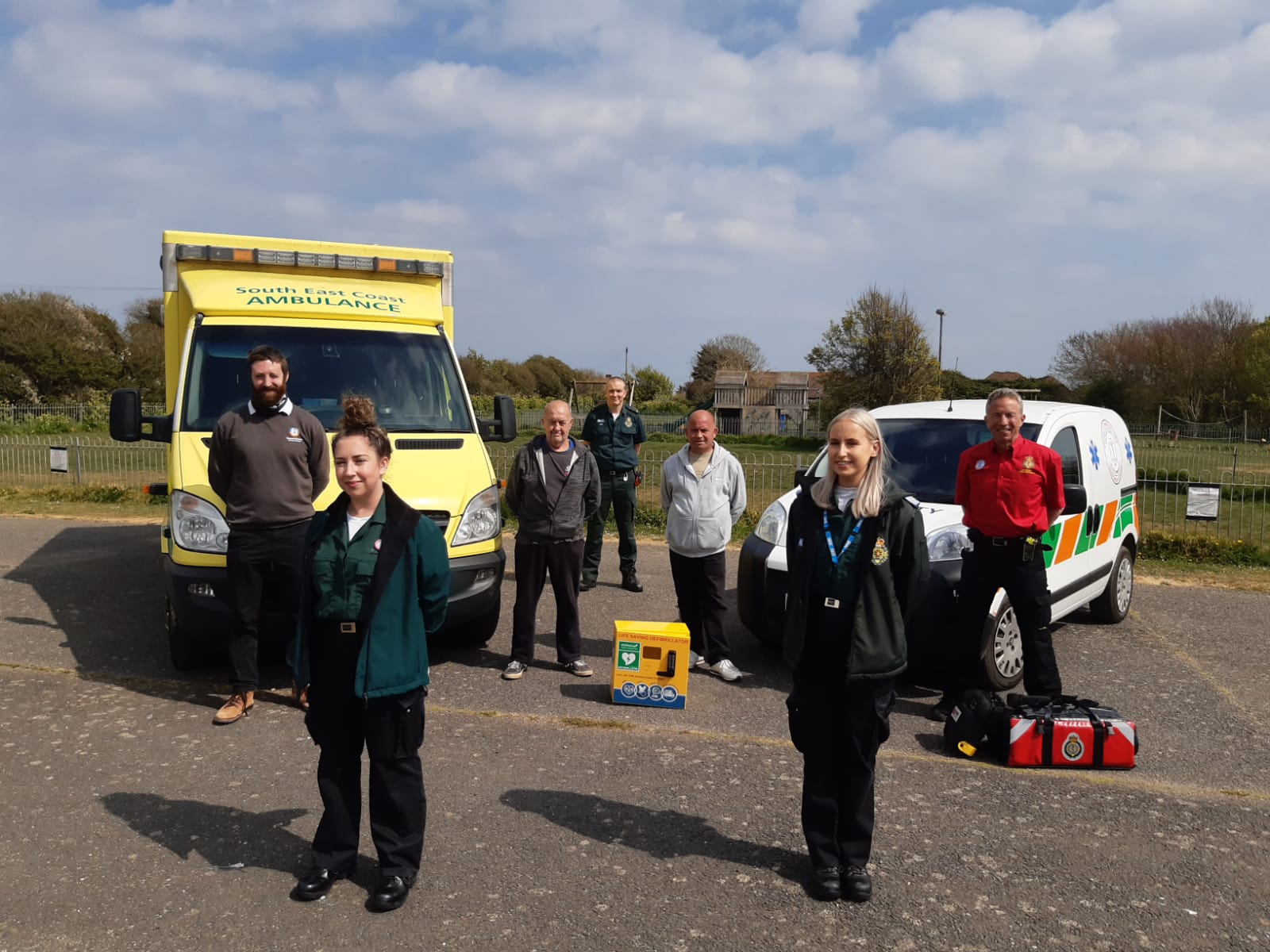 A father and son from Selsey have been reunited with and thanked some of the ambulance crews, volunteers and members of the public who came to their aid after they both required resuscitating within three years of each other.
Gary Bales met with the South East Coast Ambulance Service crews and community first responder who came to his aid on 12 March this year, along with his father, Brian, who himself was resuscitated by members of the public who used a public access defibrillator in the town some three years ago.
Gary, 52, was visiting his parents when he suddenly felt unwell, suffering from chest pain. Brian, 78, and mum, Linda, called 999 and Selsey volunteer Community First Responder, Nigel Allfrey, was first to arrive on scene.
After assessing Gary, Nigel quickly realised the seriousness of the situation and relayed the need for urgent back up. After continuing to monitor Gary and administering oxygen, Nigel was first joined by paramedic Daniel Mole with student paramedic Hannah Evans, before technician Tom France, Emergency Care Support Worker, George Pewsey and student paramedic Samantha Johns joined their colleagues at the scene.
"Nigel did a great job in spotting and quickly updating control that Gary was in a very serious condition and in danger of deteriorating," said Daniel. "Gary's heart was in a very bizarre rhythm and he then became unresponsive and required a short period of resuscitation."
Next to arrive at the scene was Critical Care Paramedic, Richard Crabb. The team worked closely together to establish the best course of action before taking Gary to Queen Alexandra Hospital in Portsmouth, where he received emergency treatment and had four stents fitted.
Gary and Brian both praised the efforts of the team and those who provided the life-saving treatment three years ago, including member of the public, Josh Cooke, who still lives locally and attended the recent reunion.
Brian said: "We were very lucky Gary had come round to visit, as otherwise he would have been at home on his own. We're just so grateful to everyone who has helped us both. If it wasn't for their amazing work then we simply wouldn't be here today."
Gary said: "Everyone involved is a real asset to the community. I just want to say thank you so much for everything they did. It's so appreciated. They do a job and a half!"
The Selsey Community Responder Team has helped countless people over the years, with CFRs arriving at the scene of incidents ahead of ambulance crews. The team has installed a total of 14 public access defibrillators (PADs) in the town.
Nigel joined the team 18 months ago after semi-retiring. Like his fellow team members, the leadership and development consultant books on to provide hours to support SECAmb when he is available to respond to emergencies in the town.
He added: "It was great for everyone to see Gary and Brian in better circumstances. Both incidents show the benefits of community first responders, public access defibrillators and the also the important role bystanders can play in the chain of survival, prior to the arrival of the amazing ambulance crews. I would encourage everyone to learn how to save a life and we're hoping that locally we'll be able to resume training in the community soon, as coronavirus restrictions are eased."