South East Coast Ambulance Service NHS Foundation Trust (SECAmb) has signed a charter committing to becoming a neurodiversity-friendly employer.
Neurodiversity is the collective term for cognitive conditions such as Autism, Attention Deficit Hyperactive Disorder (ADHD), Dyslexia, and Dyspraxia, which are natural variations in the way people think and process information.
The term recognises both the unique strengths that can derive from thinking differently, as well as the difficulties that people who have these conditions may encounter in the workplace.
SECAmb Chief Executive, Philip Astle, marked International Day of Persons with Disabilities recently by signing the charter with SECAmb Resource Dispatcher and GMB union rep, Jo Smith.
SECAmb's Inclusion Team and the union worked in partnership to develop the charter which is the first of its kind in the ambulance sector.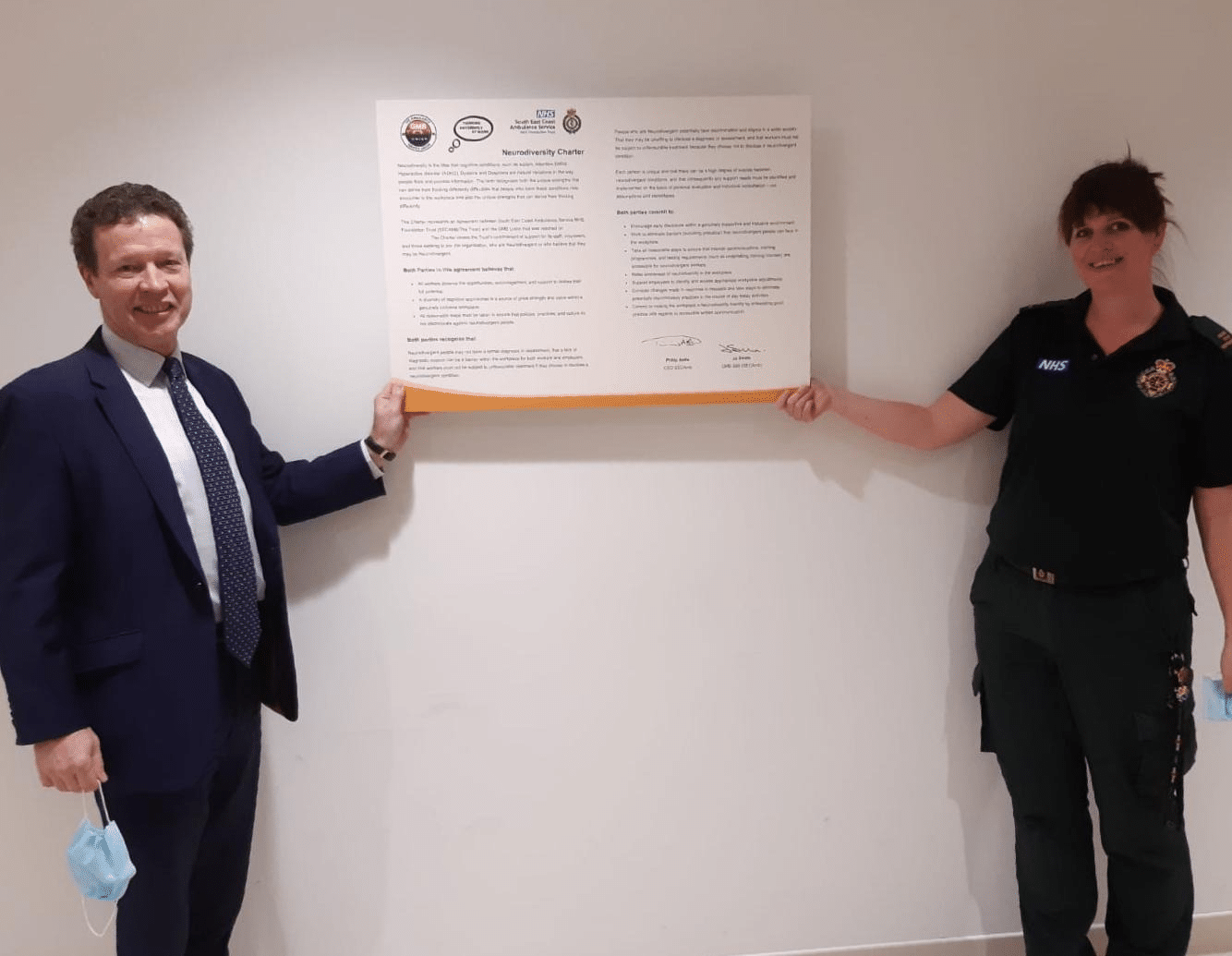 The charter includes a commitment to ensuring the following:
All reasonable steps must be taken to ensure that policies, practices, and culture do not discriminate against neurodivergent people.
Neurodivergent people may not have a formal diagnosis or assessment, and a lack of diagnostic support can be a barrier within the workplace for both workers and employers – workers must not be subject to unfavourable treatment if they choose to disclose a neurodivergent condition.
People who are Neurodivergent potentially face discrimination and stigma in wider society. As a result of this, they may be unwilling to disclose a diagnosis or assessment, and they must not be subject to unfavourable treatment because they choose not to disclose a neurodivergent condition.
Each person is unique and there can be a high degree of overlap between neurodivergent conditions, and consequently any support needs must be identified and implemented on the basis of personal evaluation and individual consultation – not assumptions and stereotypes.
SECAmb CEO Philip Astle said: "I am proud to sign this charter which places SECAmb at the frontline for other Trusts to follow and aspire to in also becoming a Neurodiversity-friendly employer.
"It is important that we work with colleagues to enable them to be the best they can by not only implementing reasonable adjustments, but by also considering what we can do to take into account differing needs at the start of planning processes and policies. The charter is a key step in this, outlining our commitment to being a more neurodiversity-friendly organisation and supporting colleagues."
GMB representative Jo Smith said: "GMB Union in SECAmb is proud and honoured to be piloting this Neurodiversity campaign for the GMB national team.
"We are confident that with our knowledge, along with the support from the Trust's inclusion team, that we can put SECAmb as a leader for other Trusts to follow and aspire to in becoming a Neurodiversity-friendly employer. I am very honoured to be leading on this campaign on behalf of GMB national Equalities officer Nell Andrew, making sure the Neurodiverse community have a voice and support in SECAmb.
"Being able to say that SECAmb is the first ambulance service in the UK to sign this charter is something I will forever be proud of."