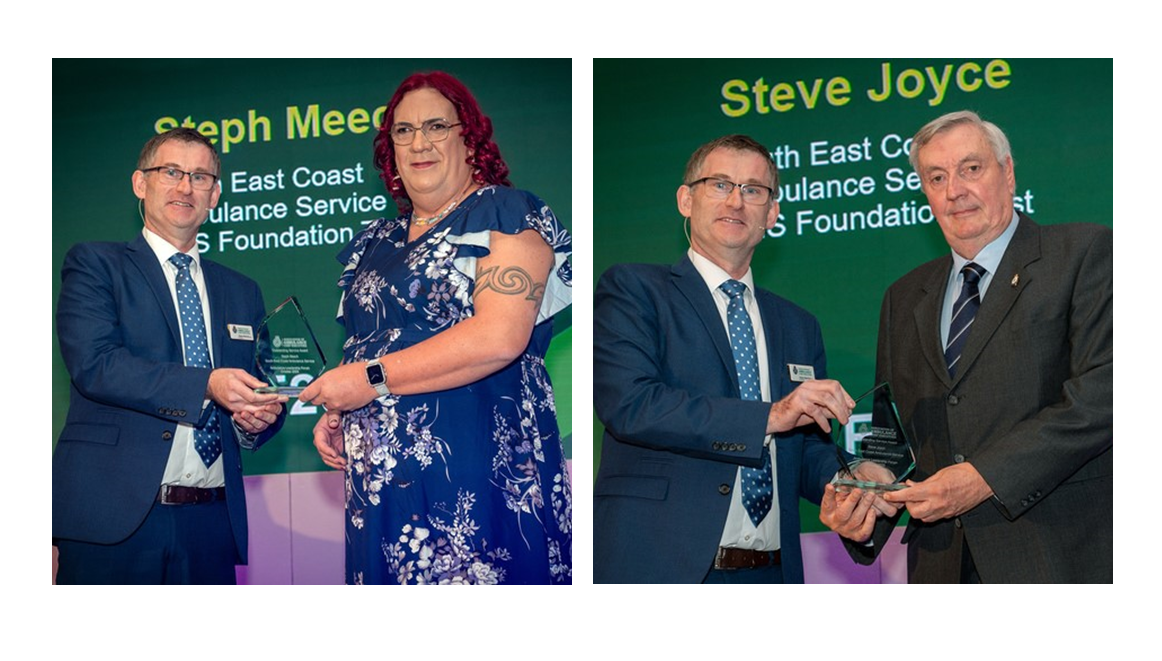 A dedicated volunteer SECAmb Community First Responder, (CFR), and Paramedic Practitioner, (PP), have been presented with prestigious national awards at this year's Ambulance Leadership Forum (ALF).
ALF is a national ambulance sector event organised by the Association of Ambulance Chief Executives, (AACE), which was held at Celtic Manor, South Wales between 2-3 October 2023.
Kent CFR, Steve Joyce, picked up the Exceptional Volunteer award – one of a number of Outstanding Service Awards which are presented to one representative from each of AACE's member services.
Meanwhile, Operational Team Leader and Paramedic, Steph Meech, was presented with an additional national award for Exceptional Contribution in Relation to Diversity.
Steve has volunteered hundreds of hours to support his local Hoo Peninsular team of volunteers, provided additional Trust-wide support during the COVID-19 pandemic, and created and implemented a robust system for both new CFR training courses and for kitting out new responders.
PP Team Leader, Steph, sits on the National Ambulance LGBT Network and has played a pivotal role raising awareness of diversity at both a local and national level for many years.
SECAmb Chief Executive, Simon Weldon said: "Steve and Steph are both extremely deserving of these awards. I would like to thank them both for their commitment to both SECAmb and the wider ambulance sector. I am pleased that their efforts were recognised at ALF, in front of their peers and alongside so many other deserving individuals."
Anna Parry, Managing Director of AACE said: "The AACE outstanding service awards give ambulance trusts the opportunity to pay tribute to one member of staff from each of our seventeen member services who have demonstrated exceptional commitment to their work during the past year.
"Whether they are front line clinicians, control centres operatives, volunteers or working in support teams, this year's recipients have really done themselves, their patients and their colleagues proud, with each person highly deserving of this recognition by their peers."
Visit 2023 Awards – aace.org.uk for a full list of award winners.
Established in 2006 and hosted by the Association of Ambulance Chief Executives (AACE), the Ambulance Leadership Forum (ALF) is the only annual event designed specifically for senior leaders across the UK ambulance sector.
This highly respected annual conference and showcasing event brings together board members, managers, NHS system leaders, politicians, academics, and health & social care partners with key suppliers who have a direct interest in improving the UK ambulance sector. More information is available here: https://aace.org.uk/alf-event/2023-welcome/