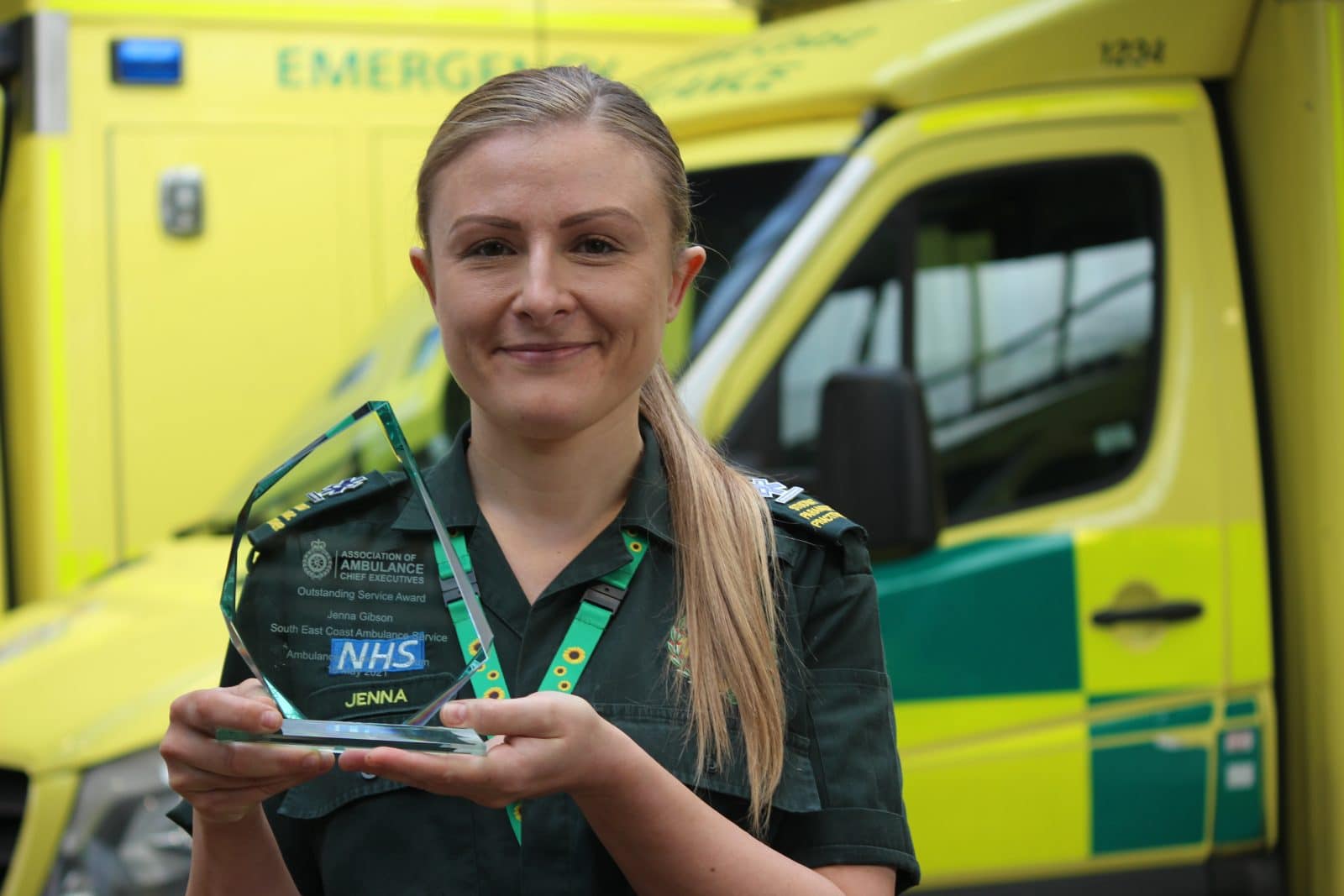 A South East Coast Ambulance Service, (SECAmb), paramedic from Kent has been recognised with an Outstanding Service Award at this year's Ambulance Leadership Forum (ALF).
Jenna Gibson, based at Medway ambulance station, picked up the award at the annual conference which was held virtually today, (Tuesday 18 May).
Jenna, who has a hearing impairment, was recognised for her work at SECAmb developing a new way of informing colleagues and other emergency services of her and others disability when working.
Jenna came up with the idea which sees SECAmb staff with a hearing impairment able to request a specially-designed pin badge to wear on their epaulettes.
The badge will mean any SECAmb staff with hearing issues can be identified easily at the scene of an incident or in the workplace potentially without having to explain their impairment each time.
Jenna, who qualified as a paramedic eight years ago, was diagnosed with chronic middle ear disease prior to starting university and has had to undergo several surgeries meaning that she now requires hearing aids in both ears.
Jenna produced a short video to explain how communication with people with hearing impairments can be improved – especially given the difficulties wearing a mask during the pandemic creates. The video can be viewed on YouTube here: https://www.youtube.com/watch?v=wxR9JGGa8Sg.
A further short film focusing on why Jenna came up with the idea can also be viewed on YouTube here: https://www.youtube.com/watch?v=vP98ZUGjF3A
SECAmb Chief Executive, Philip Astle said: "I'm delighted Jenna has received this prestigious award for her work in raising awareness and improving the working environment for her colleagues. It's really well deserved and I was pleased to present Jenna with her award last week ahead of today's virtual event. It's also fitting that a SECAmb paramedic has been recognised in the year that we mark 50 years since the UK's first paramedics began responding to patients in Brighton."
Jenna said: "I am very proud to receive this award and would like to thank my colleagues for their help in making this idea come to life. I really hope the badge along with increased awareness can make communicating at work easier for staff, our partners and in turn our patients."