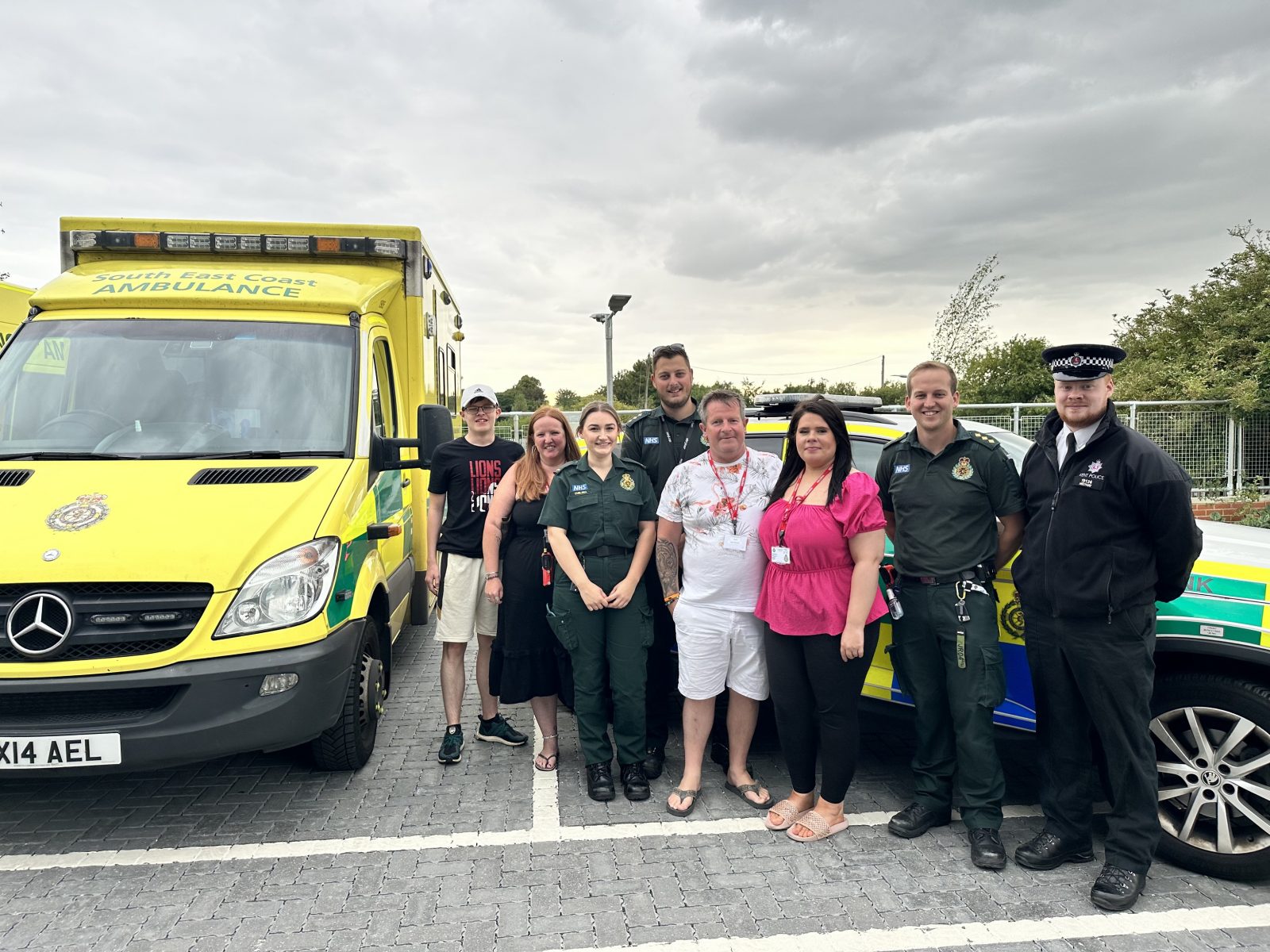 A Medway man, who suffered a cardiac arrest at Chatham railway station, has been reunited with some of the team who helped save his life.
Dean Upton, now 53, from Maidstone, collapsed at the station on the evening of 11 April 2022. He and his family visited South East Coast Ambulance Service's (SECAmb) Make Ready Centre in Gillingham recently to thank some of those who responded.
After quickly receiving help and CPR from bystanders, SECAmb's Joint Response Unit with Kent Police attended and was quickly backed up by ambulance crews and a team from Kent, Surrey and Sussex Air Ambulance Service.
Dean received advanced life support and two shocks with a defibrillator before his heart returned to a more normal rhythm. After a 'down time' of approximately 12 minutes he was rushed to King's College Hospital where he was fitted with two stents and spent a total of five weeks recovering.
Dean, who has two sons, Noah and Logan, with wife, Rachel, as well as three adult daughters, Chloe, Mia and Summer, said: "I don't remember anything about collapsing or my time in hospital but I am so grateful for everyone that helped me. I'm so happy to be able to spend more time with my family. I was glad to meet the team who were there and give my thanks."
Attending paramedic and Operational Team Leader, Alex Wilson said: "Meeting Dean, his wife and children was a huge privilege for all of us and it was fantastic to see Dean looking so well.

"When he suffered his cardiac arrest, it was incredibly important that bystanders started CPR prior to our arrival. Incidents like this show how invaluable early CPR and defibrillation is to patients' survival. He is a perfect example of the chain of survival working in action.

"On behalf of the whole team I would like to thank Dean and his family for taking the time to come and meet us all again and share his unique perspective of the events that unfolded on that day."
Dean's wife, Rachel, added: "'It was amazing to meet some of the team that attended to Dean. My family and I are so grateful to still have our husband, dad and grandad in our lives! Saying 'thank you' just doesn't seem enough. The importance of early CPR is truly shown in Dean's outcome. We are forever in their debt."