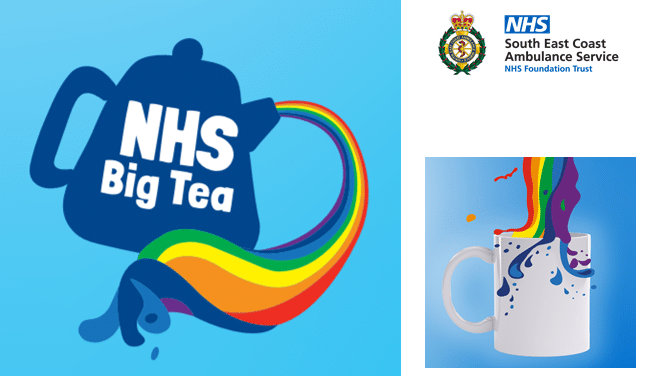 The public are being encouraged to join the biggest tea break this summer to raise funds for NHS charities – including South East Coast Ambulance Service's own charity – and say a big thank you to the NHS.
#NHSBigTea is taking place on 5 July, the NHS's 73rd birthday. It's a national celebration of NHS staff and volunteers who continue to go above and beyond during what has been such a challenging time.
Why not host a tea party on 5 July or any time over the summer to celebrate the NHS and support NHS charities?
As well as donating to NHS Charities Together, you can donate to SECAmb's charity here – https://www.secamb.nhs.uk/contact-us/making-a-donation/
The SECAmb Charitable Fund regularly receives donations and legacies from patients and members of the public which enables it to provide additional support to staff. SECAmb is extremely grateful for every single donation it receives.
Amongst other things, the charity has recently:
Supported the running of welfare vehicles, to provide additional support to staff during the pandemic
Funded kit for the newly-formed SECAmb rugby team
Provided specialist hearing aids to assist an employee
Helped to provide a memorial stone for a colleague who'd sadly passed away
Supporting NHS Charities Together also means you're supporting SECAmb and our NHS colleagues. We've received funding support from NHS Charities Together, which, amongst things, was used to fund:
Coffee machines & table tennis sets on ambulance stations
Thermal cups and bottles for staff
Garden furniture, landscaping services, plants and gardening tools
Find out more about how you can get involved in the NHS Big Tea here.