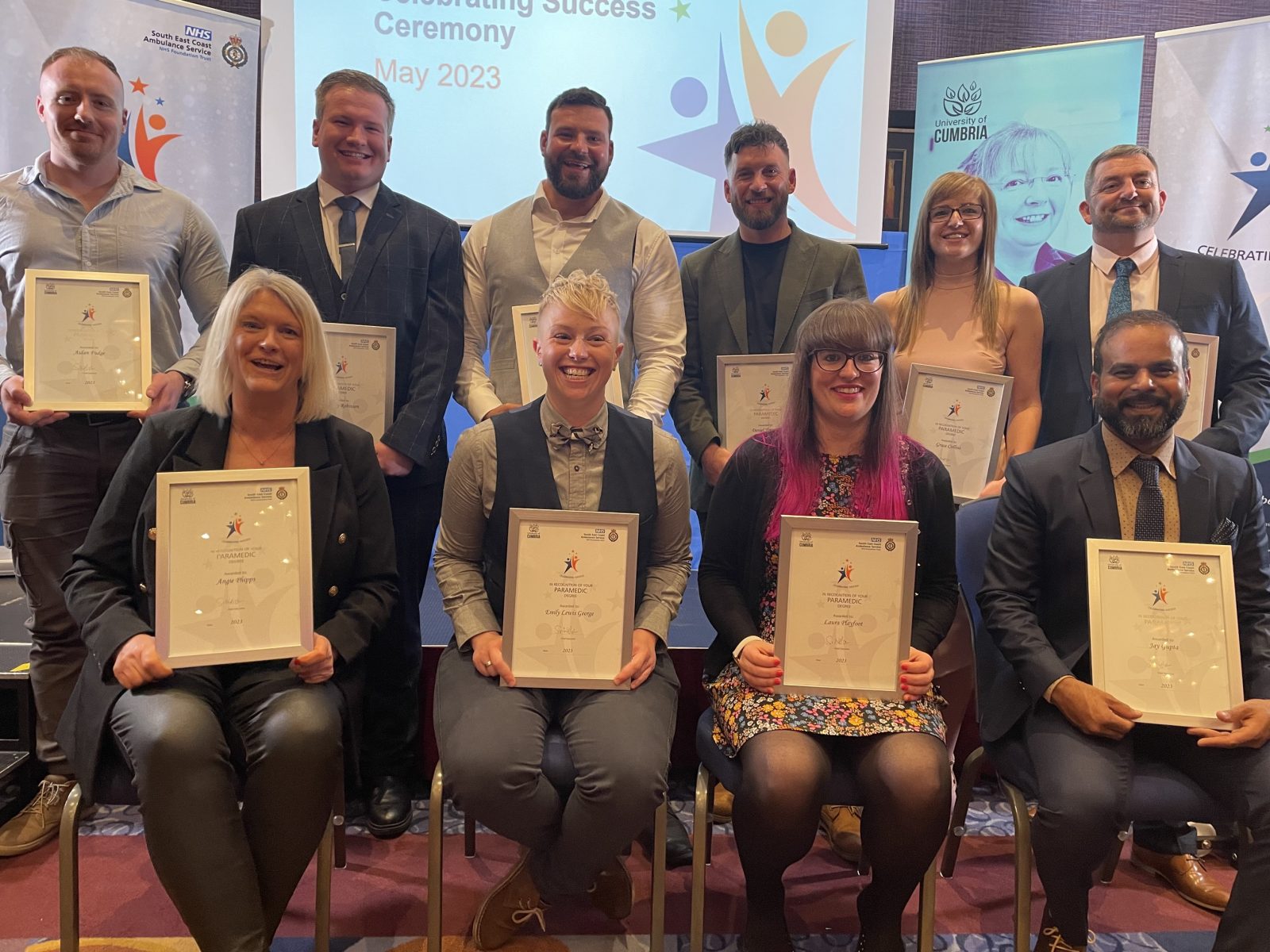 The first cohort of South East Coast Ambulance Service NHS Foundation Trust (SECAmb) staff to undertake the Trust's Level 6 Degree Apprenticeship Paramedic Programme have been recognised at a special ceremony to celebrate the completion of their journey to becoming a Paramedic.
The programme, delivered in partnership with the University of Cumbria, sees staff complete their paramedic education over a two-year period as an apprentice while working for SECAmb. The individuals previously worked in frontline roles for SECAmb before becoming Student Paramedics.
The event, which took place at the Crown Plaza in Crawley yesterday, (11 May), was held locally to recognise the significant efforts made by the staff throughout the programme, ahead of a formal graduation ceremony later this summer.
SECAmb Consultant Paramedic responsible for Clinical Education, Ashley Richardson said: "It was a privilege to attend our celebration ceremony to congratulate colleagues who had embarked upon their educational programme, successfully completing with such enthusiasm and commitment. It's a real milestone to see our first cohort of staff complete their degree apprenticeships and each and every one of them should be extremely proud of their efforts over the past two years.
"The apprenticeship degree programme provides colleagues already employed by SECAmb with career progression, qualifying as paramedics.  I look forward to many more individuals progressing in their careers in this way in the coming months and years and am excited to see their ongoing journey within the Paramedic profession."
University of Cumbria, Senior Lecturer and Programme Lead, Jane-Louise Reid said: "Our academic team were honoured to be invited to the celebration ceremony to rejoice in the success of our first cohort who have been instrumental in the development of this new and exciting educational pathway in which to become Paramedics. The commitment, dedication, and professionalism of these first Apprentice Paramedics have formed the early footprints for future Apprentices to follow, on their journey to success".
SECAmb has 97 apprentices enrolled on its apprenticeship degree and will continue to run three new cohorts each year providing staff with ongoing opportunities for career development.
SECAmb congratulates the following staff.
Ricky Braiden
Grace Collins
Aidan Fudge
Jay Gupta
Emily George Lewis
Angela Phipps
Laura Playfoot
Murray Robinson
TJ Staples
Paul Duchesne-Taylor
Daniel Timpson
Shawn Richards
Two additional awards were presented to TJ Staples for 'Best Student' Jay Gupta for 'Most Improved Student'.