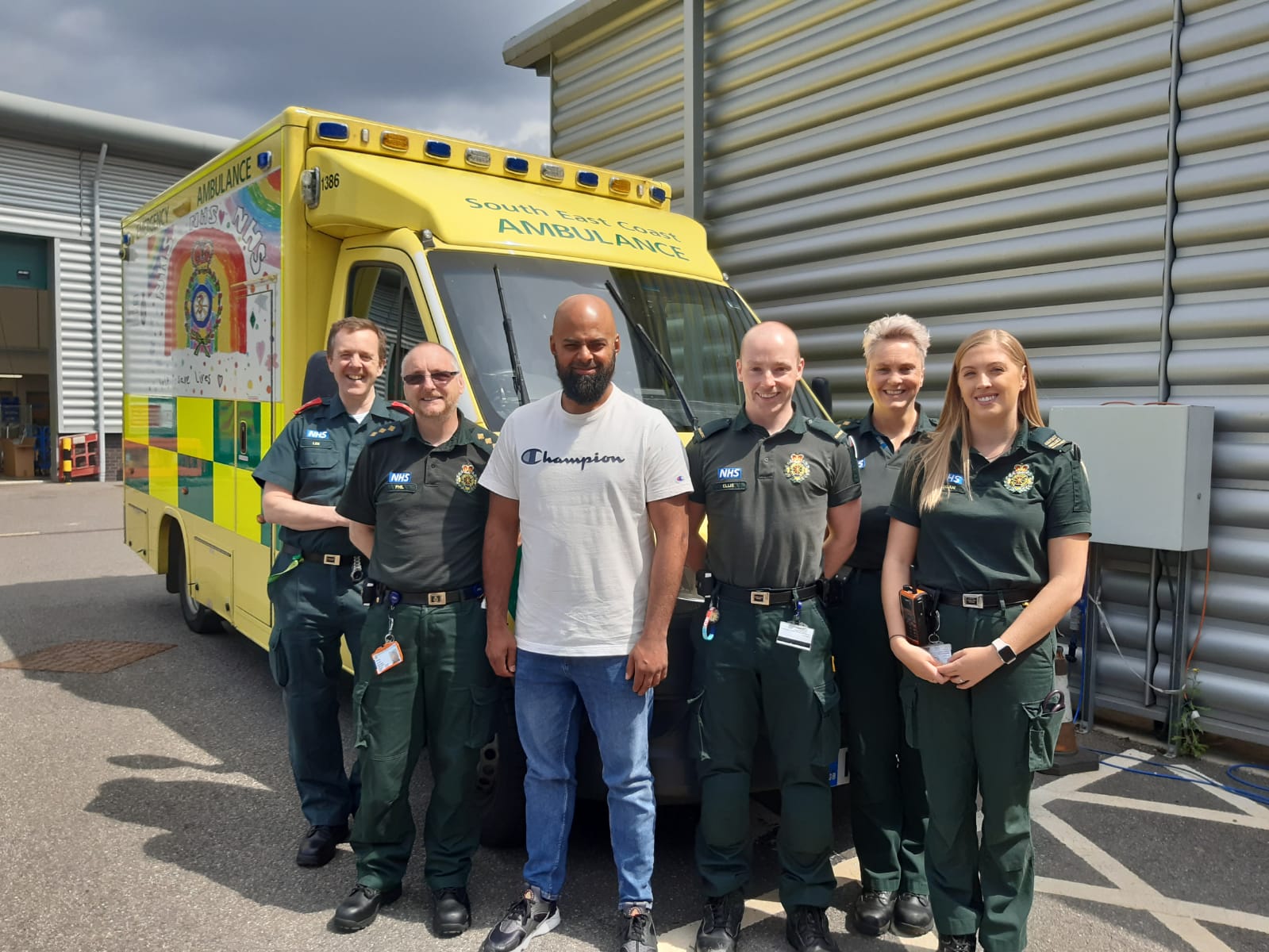 A father-of-three from Crawley who collapsed in cardiac arrest has been reunited with the South East Coast Ambulance Service, (SECAmb), team who helped save his life.
Taxi driver, Usman Hussain, 36, visited SECAmb's Gatwick Make Ready Centre recently to personally thank the team who came to his aid at his home in Crawley on 6 August 2022.
Usman, who had suffered a previous heart attack when aged just 29, began to suffer from chest pain after an evening out with friends, and, as the pain worsened, dialled 999.
Prior to the ambulance arriving, however, Usman collapsed and went into cardiac arrest and friend, Joe, called 999 again and was quick to follow the instructions of Emergency Medical Advisor, Tom, and begin vital CPR, (cardiopulmonary resuscitation).
Usman said: "The pain was just getting worse and worse. It started our like heartburn but then was like my chest was in a clamp and someone was just winding it tighter and tighter. I obviously don't remember after that."
Arriving at the scene in just under five minutes was paramedic Ellis Wilson and Associate Ambulance Practitioner, Megan Brown. Together they set about providing advanced life support and began administering shocks with a defibrillator to attempt to return Usman's heart to a more normal rhythm.
The pair were quickly joined at the scene by paramedics Alison Smith, Phil Smith and critical care paramedic, Lee Davis.
Usman received a total of 11 shocks and was fitted with a Lucas device – a machine to deliver compressions automatically – before his heart returned a more normal rhythm.
He then received sedation and analgesia and was taken to Royal Sussex County Hospital where he received specialist emergency treatment at the hospital's cath lab and spent two weeks recovering before being discharged.
He was pleased to recently be able to return to work at the start of July.
Usman said: "It was really great to see the team again and thank them for everything they did for me. I wanted to see the faces that saved me. My dad said how persistent everyone was and that it was clear they weren't going to give up. I think I have a different outlook on life now and try not to get as stressed out as a used to. I'll be forever grateful to the team and all the hospital staff."


Critical care paramedic Lee added: "On behalf of the whole team, it was a pleasure to meet up with Usman and to see that he has recovered so well. This was a perfect example of the 'chain of survival' working, starting with excellent instructions over the phone and bystander CPR being provided immediately. This meant that Ellis and Megan, as first to arrive, and then us all as a team, were given the best possible chance of resuscitating Usman. We wish him and his family the very best for the future."