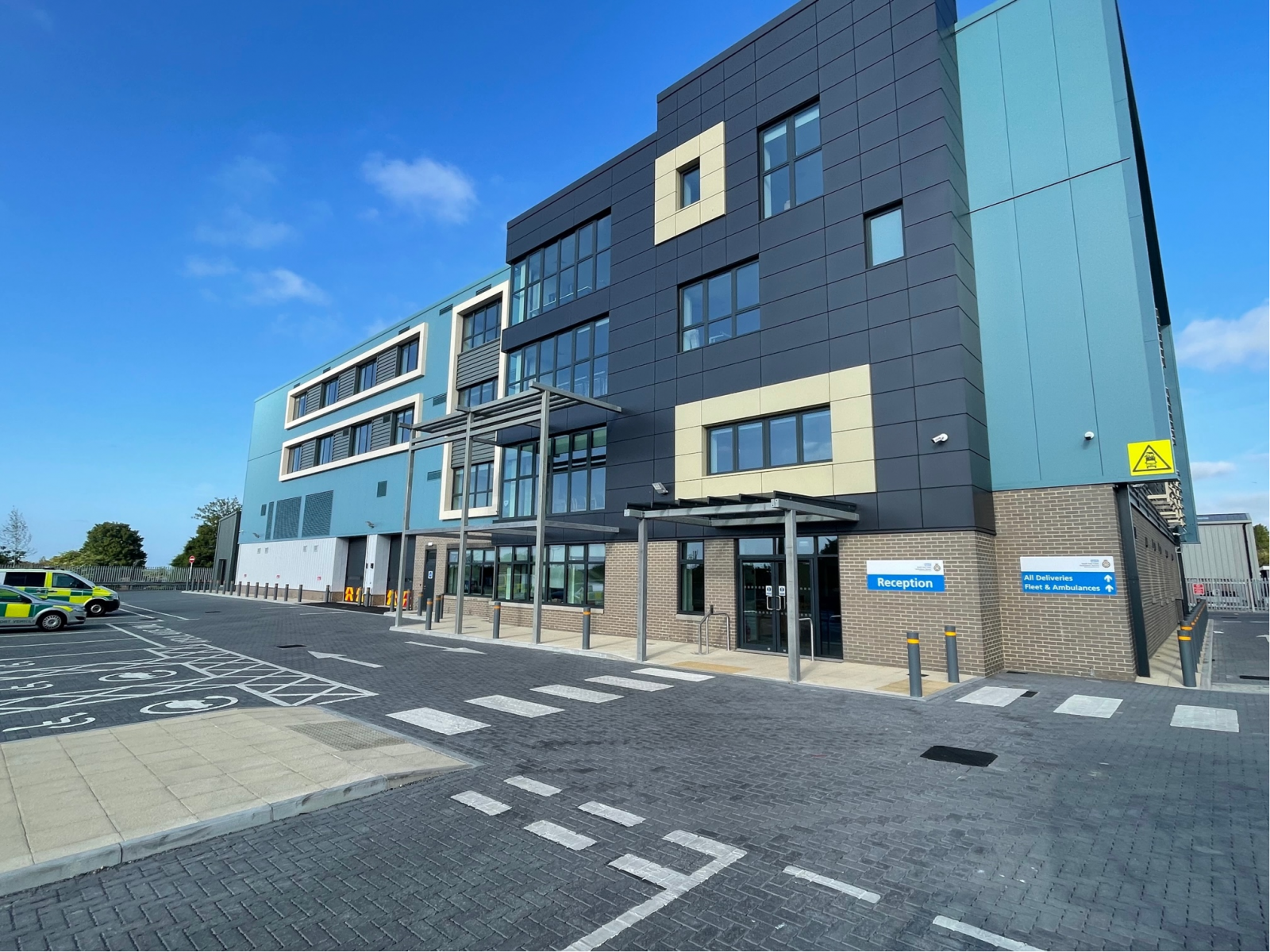 Ambulance crews will begin to move into South East Coast Ambulance Service's new multi-purpose ambulance centre in Gillingham this week.
Operational staff from the Trust's Medway Operational Unit are expected to begin to move into the new centre from Thursday (8 June). Ambulance crews currently starting and ending their shifts at Medway Ambulance Station in Chatham will instead start and finish at the new centre. The crews will then respond from ambulance community response posts across the region.
Staff based in Sheppey will continue to start and end their shifts from the ambulance station on the island, which has undergone a major refurbishment and upgrade to provide new educational and training facilities.
The centre, in Bredgar Road, Gillingham, will consist of a Make Ready Centre, Emergency Operations Centre, (EOC), and NHS 111 contact centre. It will be the first ambulance centre in the country to bring all three functions together under one roof.
The ambulance crews are expected to be joined by colleagues from the Trust's Ashford NHS 111 contact centre at the end of the month with 999 Emergency Operations Centre (EOC) staff beginning to relocate to the new centre later in the year.
SECAmb's Make Ready vehicle preparation and maintenance system will occupy the two lower floors while staff currently based at the Trust's East 999 Emergency Operations Centre (EOC) in Coxheath and Trust NHS 111 staff, currently based in Ashford, Kent, will benefit from modern open-plan offices above.
Integrating both 999 and 111 services is a key part of SECAmb's strategy to deliver more joined up integrated care and to increase efficiency. The development will also bring the east of SECAmb's region in line with its West Emergency Operations Centre (including NHS 111), based in Crawley, which opened in 2017.
The new centre provides the Trust with greater control room capacity and provides greater resilience with the ratio of staff more evenly split between the Trust two EOCs. It will also bring local recruitment opportunities for people across both 999 and 111 services.
SECAmb's Make Ready system, which involves specialist teams of staff employed to clean, restock and maintain the Trust's fleet, is already in place across much of the Trust's region.
SECAmb currently operates from 10 Make Ready Centres. The latest centre to open was in Banstead in May 2022.
SECAmb Executive Director of Operations, Emma Williams, said: "It's great that the new centre is now ready for use and it will be fantastic to see the crews starting to work out of it.

"Our current buildings, including our Coxheath office, are outdated and no longer adequate for our requirements. Bringing our 999 and 111 services under one roof will ensure we further optimise functions between these services. The new centre will be of real benefit to colleagues and provide access to modern facilities and increase training opportunities.

"We do understand that any change has an impact on staff and we will continue to engage with everyone affected by the move to the new centre."
What is Make Ready?
SECAmb's Make Ready initiative significantly enhances and improves the service it provides to the community.
It minimises the risk of cross-infection, frees up front-line staff – who traditionally cleaned and re-stocked ambulances – to spend more time treating patients, and keeps vehicles on the road for longer.
The initiative ensures that specially-trained operatives regularly deep-clean, restock and check vehicles for mechanical faults.
Make Ready Centres are supported by a network of Ambulance Community Responses Posts (ACRPs) across the area with staff beginning and ending their shifts at the new centre.
During their shifts, staff will respond from the ACRPs which will provide facilities for staff. These are located based on patient demand.
Crews continue to respond from the same towns under the system but begin and end their shifts at staggered times with a vehicle that is fully prepared for them.
The system ensures crews have access to improved training facilities and opportunities and increased support from managers.