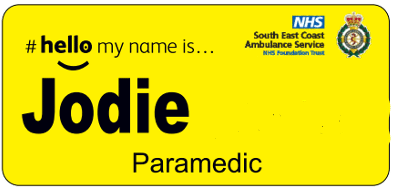 More than 500 of our people are currently trialling the use of new 'Hello my name is' badges and we would love to hear what you think.
The trial follows the introduction of the new national ambulance uniform and a move away from embroidered names on uniforms.
The badges are the same as those used by many other NHS organisations and are coloured yellow as these are more accessible for those with dementia and dyslexia.
The Hello My Name Is campaign was started 10 years ago by cancer patient and doctor Kate Grainger, who was frustrated that her care givers did not always introduce themselves to her.
If you've got two minutes to complete this quick survey, we'd really appreciate your feedback!