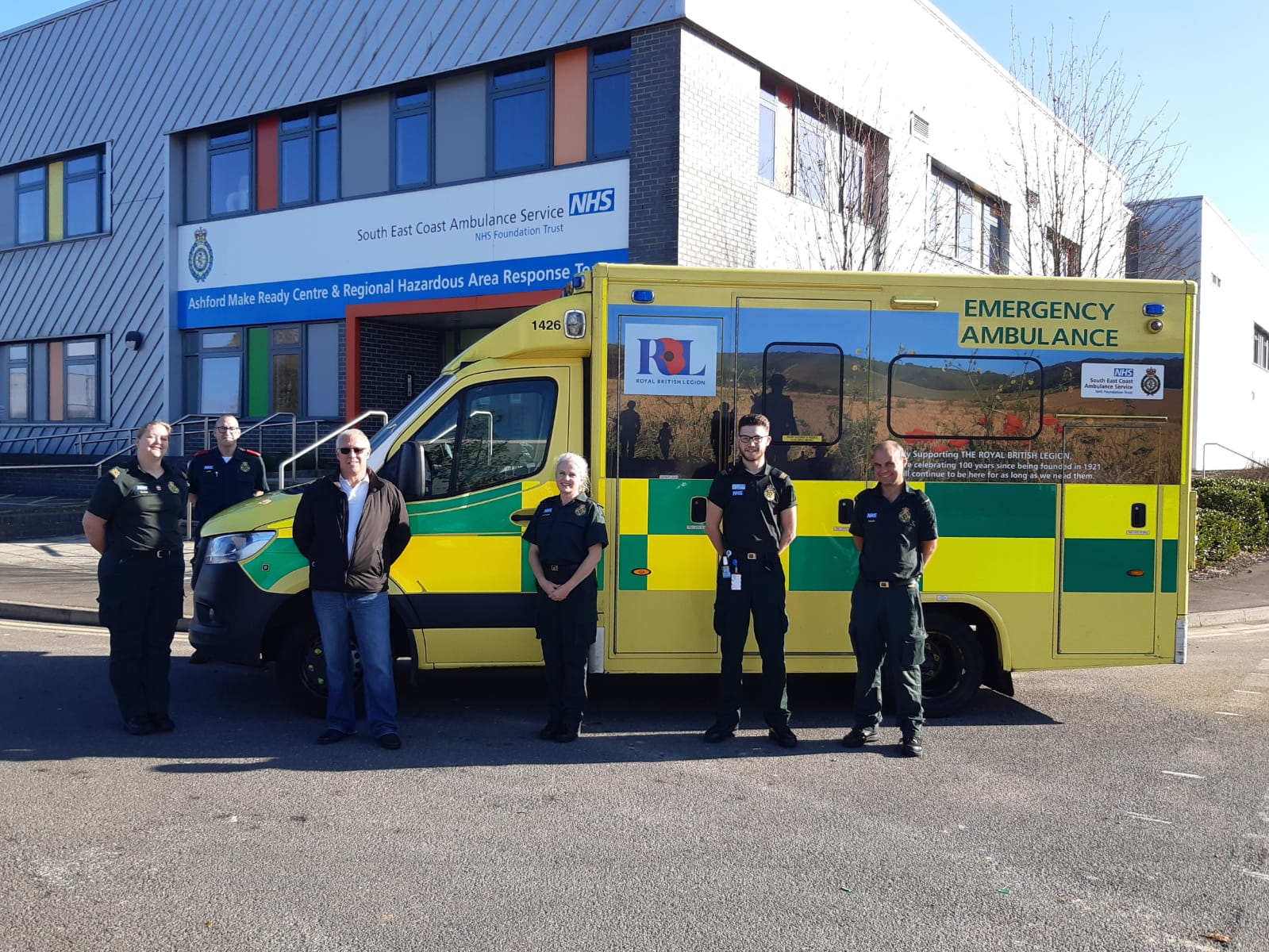 A man from Barham, near Canterbury who required seven shocks from a defibrillator to restart his heart has been reunited with the South East Coast Ambulance Service (SECAmb) team who saved his life.
Mike Ferguson, 54, is also warning others not to ignore the potential signs of a heart problem after his partner, Helena, called 999 when his chest pain, which he had experienced for some four weeks, significantly worsened, a little over a year ago on 6 October 2020.
Mike thanked ambulance crews who came to his aid recently at SECAmb's Make Ready Centre in Ashford. His 999 call, which was handled by Emergency Medical Advisor Harry Morgan, saw Paramedic Gaylene Doherty and Trainee Associate Ambulance Practitioner, Clare Sykes, attend and carry out checks on his heart. Having made the decision that he required further hospital treatment, they took Mike to their awaiting ambulance. However, as they continued their assessment in the vehicle, Mike went into cardiac arrest.
The pair immediately began resuscitation and called for back up which arrived in the form of paramedic Shaun Seely and Emergency Care Support Worker Susan Gray.
By this point Gaylene and Clare had delivered six shocks with their defibrillator with a further shock administered on Shaun and Susan's arrival and ahead of Critical Care Paramedic Luke Hamilton arriving to provide further assistance.
After being resuscitated Mike was rushed to William Harvey Hospital where he underwent emergency treatment to have a blockage in a main artery cleared before being fitted with a stent.
"It was a very unique resuscitation", said Gaylene. "Because we were treating him straight away Mike was actually conscious while we were carrying chest compressions and doing the work his heart should have been. But then, as we checked his rhythm, he would collapse again.
"It was all very sudden. We knew Mike very likely needed specialist hospital treatment but everything escalated when he went into cardiac arrest. It was great to see him looking and doing so well."
Mike said: "I had been at work and arrived home not feeling great at all and said to Helena, that I thought I should call 111 – but things suddenly got a lot worse and I said 'I think you're going to have to call 999'.
"I had been experiencing some discomfort for a few weeks but it suddenly got a lot worse and felt as though someone was tightening a belt around my chest.
"I'm just so grateful for everything everyone in the ambulance and hospital teams did for me. Quite simply, without them, I wouldn't be here. It's been amazing to see everyone in person and to thank them for doing such an amazing job.
"My subsequent treatment and rehab has gone really well and I feel like a new man but I would strongly urge people not to ignore the signs of a problem and to get themselves checked out if they have any discomfort or concerns like me."
Critical Care Paramedic Luke Hamilton added: "Right from the start, everyone did a great job to ensure Mike received the treatment he needed. The whole team should be really proud. It was lovely to meet Mike in better circumstances and speak to him about what happened. On behalf of the whole team I wish him all the very best for the future."