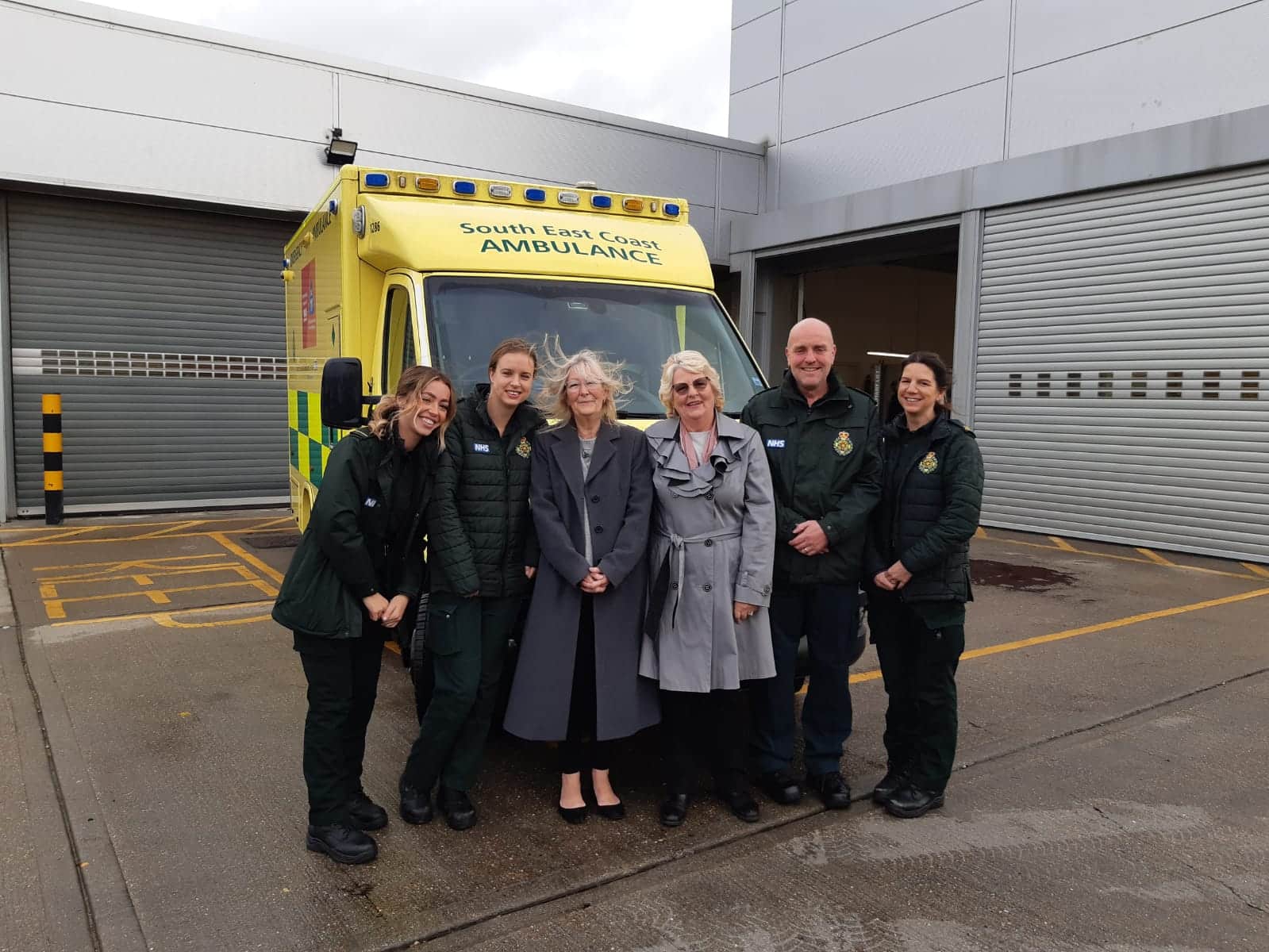 A woman from Birchington has thanked the ambulance team who came to her aid when she collapsed while on a cliff top walk.
Patricia Seager, 68, collapsed when walking her dog with a friend, Marguerite Whitling, in Minnis Bay on the morning of 17 September after suddenly feeling unwell. The pair met with the ambulance team at Thanet Make Ready Centre in Ramsgate last week.
South East Coast Ambulance paramedic, Shannon Reed and crew mate, Claire Hardy were quickly on scene and sprang into action when Patricia went into cardiac arrest soon after their arrival. The pair delivered a shock with their defibrillator which thankfully restored Patricia's heart to a more normal rhythm.
Patricia, who has now returned to her work in social care, underwent a triple heart bypass in 2015 but has since striven to look after her heart health by walking and by making healthy lifestyle changes.
She said: "As we walked along, I suddenly felt dizzy but before I could reach a nearby bench I collapsed. Apart from the odd snippet, I don't remember much about what happened but I have subsequently been told by Marguerite of the heroic efforts the team made to save my life."
Shannon and Claire were backed up by fellow clinicians John Ward and Jess Bushell. The team worked to stabilise Patricia before liaising with the Trust's Critical Care Desk and arranging to take her initially to QEQM Hospital in Margate. Patricia was then transferred to William Harvey Hospital in Ashford where she spent five days in the Critical Care Unit before being fitted with a pacemaker and defibrillator.
Shannon said: "It was a pleasure to meet Patricia and see her doing so well. From the moment we arrived, Claire and I worked well together to ensure Patricia received the treatment she needed, with John and Jess providing vital back up. It was amazing to see her and Marguerite in better circumstances."
Patricia added: "I survived due to the expert and compassionate care of the whole team. Without them I simply wouldn't be here and I also wouldn't have been around to see my daughter finish her chemotherapy treatment and hopefully beat cancer. There are no words I can really say to express my thanks to them all. It has been lovely to meet them to thank them face-to-face and offer them my most heartfelt gratitude and appreciation."